Bomboniere are little objects with a distinguished and solemn role: to preserve memories of a day full of smiles and emotion. We firmly believe that for an original wedding are necessary equally original and refined boxes of sweets, able to represent you in each detail. That is why it is important to rely on a professional figure who will choose the best materials such as strips, organza, flowers, boxes, packs and caskets. The best of everything.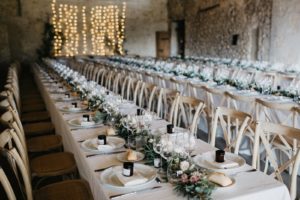 The staff of Mariella Santoni, puts a special care for what concerns boxes of sweets. We love to project and realise little object of refined design, that we pack by hand to keep the uniqueness that characterise our creations. We always use first grade materials. We opt for cotton, linen and lace that we choose personally in the best Florentine craft workshops. We have the same meticulous care for caskets. We love to select them carefully by going to our best suppliers according to the kind of wedding favour that we want to prepare.
As you can guess we love to keep very high qualitative standards for both boxes of sweets and confectionary.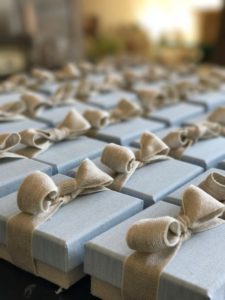 Once purchased all the materials and agreed with the couple the box of sweets' look, we start our creative work.
We cut, sew and package. We also combine colours and shapes, fabric and strips. With enthusiasm and dedication, we spend hours and hours preparing the wedding favours until they are perfect; ready to be gifted to the guests leaving them amazed.
Given the fact that we like to always add a personal touch of style, we embellish those gifts with little Swarovski pendants and charms, that we buy from our trusted Florentine craftsmen. Originality is for us the key element in each wedding's organisation. It is our anchor, our stylistic signature.