Famous weddings have always had something to teach us about style, above all if we take a look at the bride's wedding dresses..
They have made us dream when we looked at them in magazines or on the tv, wishing to be in the bride's shoes.
Even for an hour. With such a beautiful dress that would leave everyone speechless.
As today we feel a little nostalgic and we want to be inspired by the greatest masters of style, we propose you a new selection of white dresses that had enchanted the entire world.. They still amaze us nowadays by giving voice to those who invented and wore those dresses.
Are you ready to daydream? Let's start the time travel!
Queen Elisabeth
1947, London. Elisabeth II has just turned 21 and she is about to marry Prince Philip. The Second World War was still a fervid memory
in people's mind, but this wedding cheered up the whole UK population. The queen wore a dress designed by Norman Hartnell. Satin, white pearls and silver string together with a beautiful tiara and a tulle veil: elegance at the highest levels.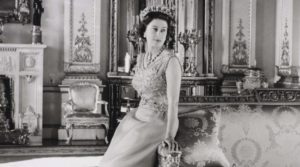 Audrey Hepburn
Who of you hasn't seen Breakfast at Tiffany's yet? The gentle face of Audrey Hepburn (the main character in the film) has enchanted so many generations. The dress in which she has got married in 1954 had to live up to such a distinct and unforgettable poise. The actress chose a 50's dress that looks like a ballerina's, designed by Pierre Balmain. Le white roses in the hair contributed to emphasise the willowy and refined figure.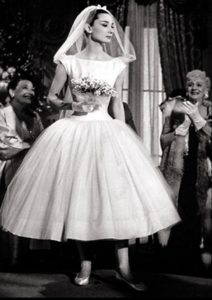 Grace Kelly
Here we are in front of one of the most beautiful and famous wedding dresses of all time, worn by another international movie star. Grace Kelly got married in a Helen Rose dress. This last was the dresser of the Metro-Goldwyn-Mayer, a famous American matrix private company of film production.
A 25 meters long taffeta decorated with pearls and lace's details.. An antique rose dress which was produced by more than 20 seamstress,, for more than 6 weeks.
A little anecdote: it has been said that the beauty and the preciousness of that dress has been chosen by Kate Middleton as a model for her wedding dress; a recent event that we had the possibility to watch live with dreamy eyes.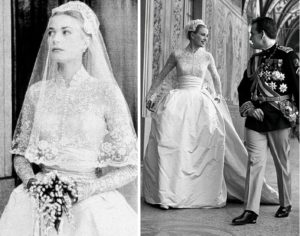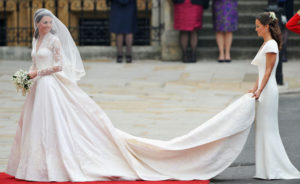 Which one do you like the most? Write it down on the commentaries, let's share and discuss our tastes!